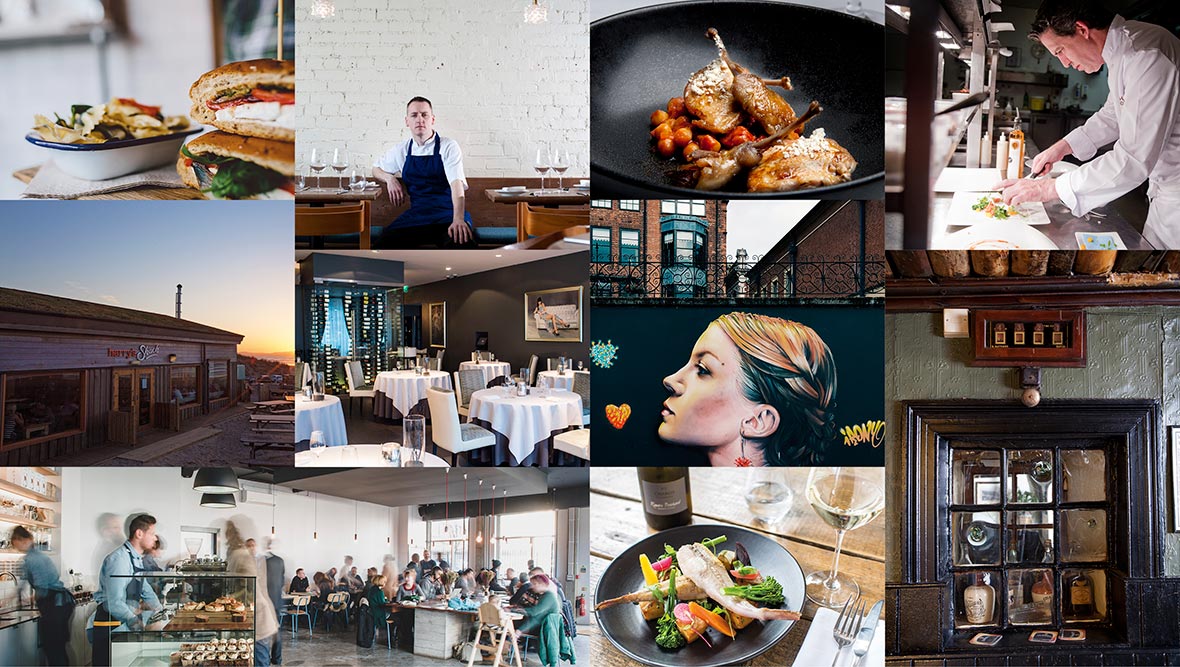 Walk around Belfast and you'll find yourself in the centre of a food and drink renaissance. Northern Ireland's capital has become a hive of high-grade chefs, producing some seriously exciting dishes. Step through the black frontage of OX or enter the hallowed doors of EIPIC, and you'll encounter modern, Michelin-starred dishes that celebrate Northern Ireland's quality local produce.
These days you're spoilt for choice as the Belfast food scene can hold its own against the best.
Lonely Planet
This is a city rippling with great places to eat. There are cool coffee hangouts like Established, and buzzing urban hubs like Town Square. There are elegant restaurants like James Street South, and innovative spots like Shu. And the mantra right now? As Bib Gourmand-winner Home likes to proclaim: "Fresh. Local. Seasonal." You only have to wander around St George's Market to see what chefs in Northern Ireland have on their doorstep: grass-fed beef, sumptuous artisan cheese, succulent oysters.
Image above from top left: Lost & Found, Coleraine; Ox, Belfast; Browns, Derry~Londonderry; Browns, Derry~Londonderry. Middle row: Harry's Shack, Portstewart; Eipic, Belfast. Bottom row: Established Coffee, Belfast; Graze, Belfast; Grace Neills, County Down

And it doesn't stop at Belfast's city borders. Head outside the capital and you'll encounter distinctive restaurants that are destinations in themselves. Just look at Harry's Shack in Portstewart, a fishy mecca that was rated Ireland's Restaurant of the Year just months after it opened in 2014. According to the restaurateur behind the venture, Donal Doherty, this is the best time ever for Irish food: "There is much more confidence in our own ingredients, and customers have become more adventurous and trusting," as Doherty explains.
If I were to die tomorrow, I'd walk to Strangford, get a couple of bottles of really cold Chablis, and eat as many Strangford Lough oysters as I could. Then I'd die very happily indeed.
Killian Fox, The Guardian newspaper
That sense of adventure is reflected in menus across Northern Ireland, whether at the elegant Browns in Derry~Londonderry, or The Poacher's Pocket – a refined gastropub in Comber, County Down. Fuelled by a passion for local, natural produce, chefs at high-grade eateries, such as Blakes of the Hollow, Newforge House and The Parson's Nose are proving that to get the very best, you don't have to go far.
Don't-miss food festivals

Travel around Northern Ireland, and you'll quickly notice the surge in homegrown craft beers and artisan ciders, with an emphasis on small, high-grade breweries. Take a seat in centuries-old pubs such as Grace Neills (1611) in County Down, or The Brewer's House in Donaghmore, County Tyrone, and enjoy crisp local brews and fruity ciders. Keep your eye out as you travel around for names such as Sheelin from County Fermanagh, Whitewater from the Mourne Mountains, Kilmegan Cider from County Down, and Hilden from County Antrim.
Many of these beers, ales, stouts and ciders pair brilliantly with seafood and local flavours, so if you're visiting one of Northern Ireland's gastropubs, make sure to ask about matching the right drink with the right food. Take it from us – it's the best way to enjoy them.
Looking for a taste of Northern Ireland?